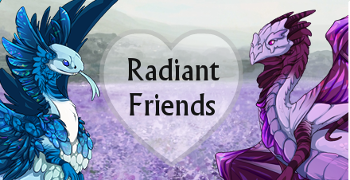 Things are never quite as scary when you've got a friend.
Whenever these dragons sense sadness, they rush to help the upset dragon. Radiant Friends do not talk, but they offer a comforting aura and warm hugs. Nobody knows where they come from or where they live - they might be in one lair for a moment, then move on to the next. But whenever a dragon is sad and upset, a Radiant Friend will soon be there.
A Radiant Friend's role depends on their color. Having one in your lair can help with depression, social anxiety or any problem imaginable. Even though a Friend might have quite a personality, their company makes life much easier.
Radiant Friends
Created by Kationi
Flights
Any
Breeds
Any
Primary
Genes
Basic, Iridescent, Crystal
Colours
Light colours
Secondary
Genes
Facet
Colours
Dark colours
Tertiary
Genes
Okapi
Colours
Dark colours
Extra
Official thread
Radiant Friends
Google docs
More info here
Hatchery
Radiant Friends hatchery
Radiant Friends seem to enjoy wearing capes, scarves and flowers. Shiny jewellery and silks are also popular because Friends like anything beautiful and easy to move in. Occasionally, a Radiant Friend decides to wear armour instead. Those Friends might seem fierce and unfriendly when they're not on their duties as Radiant Friends.
It's very rare to see a Radiant Friend who holds a weapon.
Radiant Friends have a light primary colour. Their Facet and Okapi must be darker and in the same colour range. White, maize and ice are neutral bases that can be combined to any colours. There are some exceptions to basic rules, which can be found from the Radiant Friend colour guide.
Radiant Friends love to hold different gift-giving events. 
New Radiant Friends can be created by breeding. Nobody knows where the original ones came from, though.
Skydancers are the most common Radiant Friend breed.
Helping others is usually the most important thing for Radiant Friends, but some of them might chase their other desires instead.